Designed by Mike Burrows – designer of the Windcheetah, the Lotus superbike, and many others – the 8Freight is a different kind of cargo bike. Simply, it doesn't feel like a cargo bike to ride. The load is behind you, not getting in your way in front, so the steering feels completely normal. The longer wheelbase makes things like speedbumps feel more civilised, and at speed it even feels sporty not ungainly.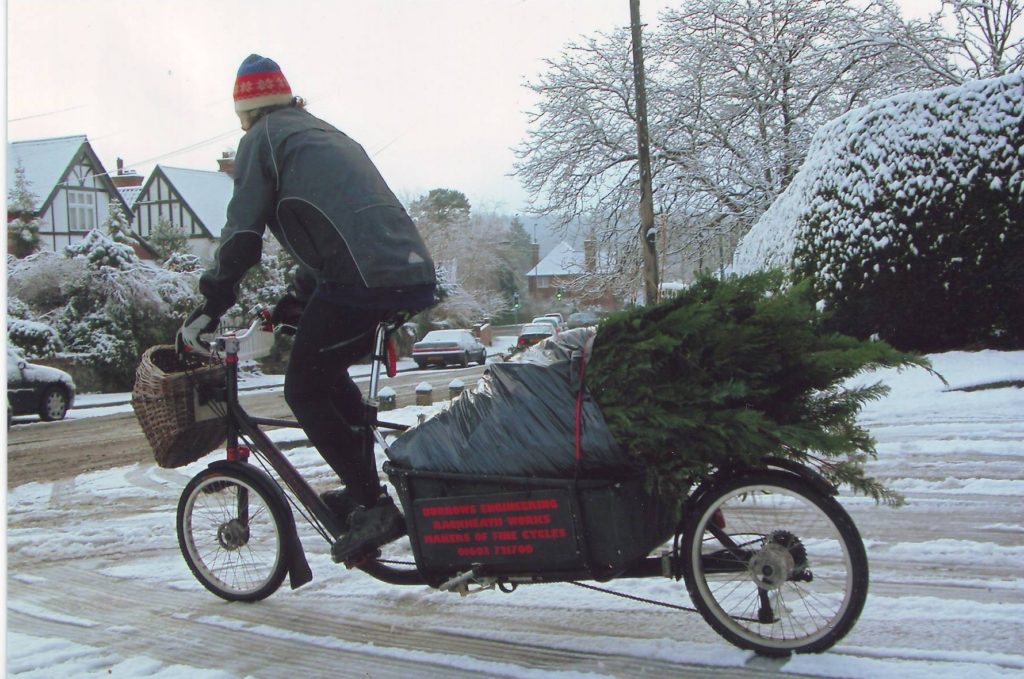 The 8Freight's frame is aluminium, so the complete bike weighs only around 20kg. 20″ wheels with balloon tyres are strong and comfortable, and they have Mike's signature single-sided drum brake hubs to make tyre changes very quick and easy.
Another advantage of having the load at the back is that you can extend beyond the load bay – the reinforced rear rack and top can be used to carry much larger objects. I've carried full-size pallets, and I know people who have carried sofas!
The cargo area itself measures 74 x 54 x 25 cms, and the maximum load (not counting the rider) is 100kgs! That's why the 8Freight has been used as a stable camera platform with a cameraman in the back, and it was also used for in-ride refuelling during Guy Martin's 24-hour tandem record.
With a width of only 60cms, the 8Freight can squeeze through traffic like a normal bike (assuming you don't have a sofa on the back!) and it's a very low-maintenance bike – the sealed drum brake hubs will go for years without attention, and the aluminium frame and marine ply load bed don't mind sitting outside in all weathers.
The 8Freight has a neat propstand too – operated by a gas strut, you lower the stand using a handlebar lever. The 8Freight comes as standard with a fabric cargo bed, but as an option you can have a wicker basket or a lockable strong box – or there's the Shower Cap, a waterproof cover for the standard cargo bed.
I have a demonstrator 8Freight at the shop to try out.
8Freight Cargo Bike – £2275 

Wicker Basket – £350 

Strong Box – £300 

Shower Cap – £140